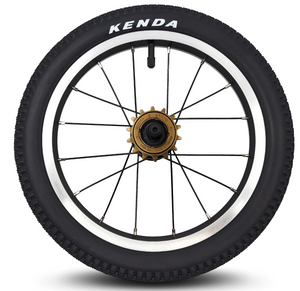 Includes a complete wheel with a 14t freewheel hub, and pre-installed tire and tube.
Tools required for installation:
15mm socket wrench
Flat head screwdriver
2 x 5mm hex key
Are you thinking of putting this wheel on a bike other than an Alpha One? We do not guarantee that this wheel will fit any bike other than a Prevelo Alpha One.  If you choose to order this wheel for a different bike, please make sure it will fit.
This wheel has 110mm OLD.  This means that the distance between the rear dropouts on your frame must be 110mm.
Will not work with disc brake bikes.