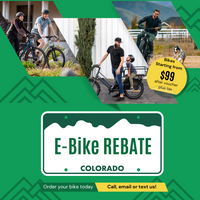 How to redeem your e-bike rebate voucher
Step 1: Obtain your voucher from the Colorado Energy Office
Step 2: Decide which eBike to purchase from Cyclerie! We offer Blix, Aventon, Gazelle, Giant, and Liv e-bike brands.
Step 3: Redeem your voucher by coming in-person to our store or calling Cyclerie at 720-235-8660 (M-F 10am-6pm MST) or email us
You will need to provide your voucher number and a form of ID in order to place the order.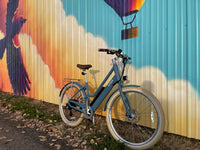 TRY A BIKE
We think a test ride is the only way to truly understand the pleasure and possibilities of bicycles.
Come in anytime, no appointment needed for a one-on-one experience of our electric and pedal bike selections.
Ride Demo Waiver
Store Hours
515 Briggs St, Suite D, Erie CO
Spring/Summer Hours:
Tuesday, Wednesday, Friday and Saturday 10AM to 6PM
Thursdays 10AM to 7PM (Farmers Market Day)
Sunday: Appointment Only https://calendly.com/cyclerie/bike-demo
Closed Mondays